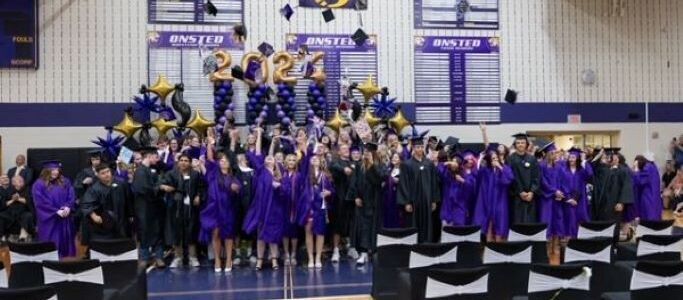 High School
Welcome to Onsted High School!
We are committed to providing our students with all the necessary skills and experiences to be successful in today's world. We strive to create a learning community that results in graduate reflections filled with valuable, meaningful experiences. Through a strong academic program and our many extra curricular activities, as well as a dedicated staff developing important relationships with students, we are confident that when a student from Onsted High School earns their diploma they are prepared as lifelong learners to be successful both professionally and personally.
Mr. Tim Comden
Onsted High School Principal
Well-kept facilities foster a productive learning environment
Students learn best in an environment appropriate to their development
Students must develop a good work ethic
Communication is the key to an effective learning experience
Success depends on staff working together as a team to build a strong foundation
It is important to recognize and appreciate cultural diversity
Students need a wide variety of learning opportunities and organizational/social skills to reach their full potential
The home, community, businesses and school should form a collaborative partnership
Students learn best when they feel good about themselves and their accomplishments
Education is essential in developing critical thinking and problem solving skills
The school should provide a safe environment conducive to learning
The school should provide continuous staff development
Caring, competent and informed staff is essential for learning
Learning is a lifelong process for students, staff and community
All students are able to learn
The school must provide all students with a technologically proficient staff
Learning should be meaningful and enjoyable
Our schools have a responsibility to educate students to become contributing adults in a global society
Onsted Schools will promote the values of integrity, responsibility, loyalty, respect, dedication and pride
Every person has worth and is entitled to be treated with respect
Community and parental involvement enhance education
Good education requires personal investment and discipline
HS News

View Archives
School Hours
The office is open from 7:30 a.m. to 3:30 p.m. each day during the school year except for school holidays.
Registration Procedures
For information on enrolling a student at the high school, please contact the Guidance Office at 517-467-2173.